Raymond F17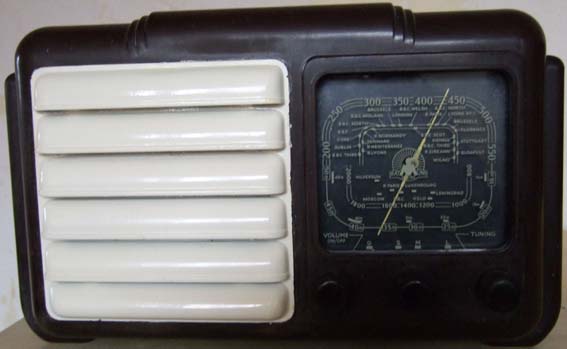 The Raymond F17 valve mains radio was made in 1947 by the Raymond Electric Company of Perivale, London.
It has the following valves in its circuit:-
ECH35 (Frequency Changer); EF39 (I.F Amplifier); EBC33 (Detector + A.F Amplifier); EL33 (Audio O/P), and 5Z4G (Rectifier). The set covers Long, Medium & Short Wavebands.
Repairs:- The F17 had a complete check of Resistors & Capacitors for tolerances, and most of those components were removed & replaced with modern equivalents.
The plastic cabinet had been dropped by previous owners - a split was found underneath. Repairs were carried out by cutting some aluminium mesh in to a strip, and then fixing it to the inside of the cabinet break & by epoxy resin adhesive. This method of repair really secures the cabinet, and gives it some support.
The radio had some cosmetic repairs to its paintwork, the metal bracket that secures the dial glass looked rather worn out, so it was cleaned up and sprayed matt black. The dial glass itself was in a better state, but had not been mounted correctly in its bracket. The printing on the scale had not suffered wear, but the edges of the glass had been damaged (not visible from outside the radio).
The loudspeaker louvres on the cabinet front had lost their cream paint finish, so I used "Plastikote" aerosol spray paints, first a Primer, then the cream finish paint. It made the cabinet really distinctive. There were a few parts that I missed, so I touched them up with a small paintbrush and "Humbrol" cream paint. The dial pointer and the waveband pointer also were treated with cream paint
The control knobs were a problem (the originals missing, of course!), but eventually three were obtained. Not sure whether to spray paint these in cream or not?